Chronic Disorganization can affect your professional career.
In my last post, we defined Chronic Disorganization (CD). In today's economy, it's essential that we give ourselves every fighting chance in our given industries. Unfortunately, clutter and an untidy desk, let alone delayed projects and postponed deadlines, can pose problems to your job security. Although some workplaces may embrace a creative, free spirited individual (which can be a label attributed to an individual with CD), some find it unprofessional. You may have had a situation where you boss has requested that you tidy up your desk. I even know of situations where employers have hired Professional Organizers to work with specific employees in order to get their work space back to a manageable, organized state.
Do you need help getting organized?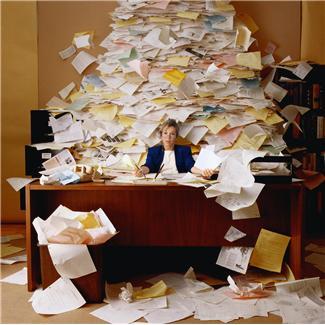 If you are in a situation where your clutter has caused issues in the workplace (or at home), it is likely time to consider getting help. There are many Professional Organizers who work with individuals to help them "get it together". It is absolutely nothing to be ashamed of, and in the long run, it will likely be an easier process than trying to find a new job. Chronic Disorganization can be attributed to a difference in executive functions. Some are stronger in some, while some are stronger in others. We all have our strengths, but sometimes we just need to focus and work on our weaknesses, and recognize that help may be needed to do that.
Your clutter is costly.
I don't mean to be crass, but this is the reality. Although things are starting to look brighter, this is no time to take your job for granted. The downturn in the economy has forced employers to thoroughly examine their production and staff. They want to maximize their profits, and a disorganized employee can cost them money.
But don't despair! Recognizing you need help is the first step in the right direction. In our next post, we will investigate ways to help get that pile under control. Yes, we're going to be talking about paper. Don't worry, you can do it!
Enjoyed this article?  Please post a comment!
Thank you for stopping by… Liz Mason
Organizer serving Maryland, Washington D.C. and Virginia