Can you imagine every room of your house and
every area of your life finally being organized?
Do you tend to run out of energy half way through the day?

Are you tired of feeling like your don't have enough time for the things that are important?

Are there rooms in your home or business that you are ashamed of because of the clutter?

Do you start new projects with lots of energy and later discover your heart is no longer in it?
Find inspiration to change today!
The Let's Get It Together "Inspiration Program…"
Developed with the busy woman in mind; a system to help you find the inspiration you need to get your house in order now. A simple step-by-step guide to help you get organized and simplify every area of your life.
Learn to get organized and maintain systems that work with your lifestyle.
Discover key principles that get to the root causes of clutter.
Get simple tips and resources to help you reduce clutter.
Learn how to prioritize your schedule to create a more efficient daily routine.
Get time-saving tips to manage all areas of your life.
Better understanding of organization and clutter from a biblical perspective.
Discover the basic tools you already have available to boost your productivity.
Uncover key ways to maximize your strengths to benefit you and your family.
Finding the INSPIRATION you need to Get Organized, Simplify Your Life, and Glorify God is not a hidden mystery. There is NO CODE to crack. Liz has put together for you a quick and easy to follow, no-nonsense process to get you organized and help you stay that way. The Let's Get It Together Inspiration Program comes complete with 2 DVD downloads that will give you easy, clear and decisive techniques to make reaching your goal of living a simpler life that glorifies God a reality.
"CONQUER CLUTTER FROM THE INSIDE OUT."
You learn how to look at every area of your life and apply basic principles of truth that will inspire you to never go back to the old, overwhelmed and disorganized way of living.
"FIND OUT WHAT YOU DIDN'T KNOW ABOUT CLUTTER AND THE DEVASTATING EFFECT IT CAN HAVE ON YOUR INNER PEACE."
It's not necessary to sacrifice your peace of mind simply because you don't know where to begin. Getting your life organized can be one of the most fulfilling things you have ever done. It's time you start moving.
Get High Impact Results!
Here's more of what you get with the Inspiration Program:
*
Special 28 Days to Change Planner
This planner will guide you through the entire process in 28 days. Follow this template for building your own customized system to help you set goals and accomplish more than you ever thought possible. The work has been done; the research is complete; all you need to do is implement Liz's self-tailored program to put the right systems in place that fit your lifestyle. Set goals that WORK for you. Organize your home, your business and your family, all while using this simple guide to walk you through the process.
*
Personal Reference Packet
This packet will include helpful resources to keep you on track. Learn where to get the tools of the trade that make getting organized so much more fun. You'll also receive:
calendars

bookmark

charts

resources

study aids

planning lists

tools to support your success
All this comes with my
90-day Satisfaction Guarantee!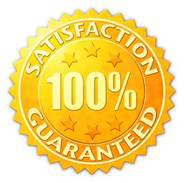 Try this program and complete each exercise and if, at the end of the 90 days, you feel that you are disorganized and unhappy with the progress in your personal and spiritual life, you can receive a full refund. I am convinced that you will love this program and will enjoy going through each of the modules. Once completed, you will be so happy you did. You have absolutely nothing to lose.
Reserve your copy now at a special presale rate of 30% off the regular price of $69.97 $49.97!

This is an awesome savings of $20.00. But that's not all, order your copy during our presale promotion and you will receive four bonus items absolutely FREE. Order your copy of the Let's Get It Together Inspiration Program during this presale event and Liz will send you these added BONUSES at no additional cost.
Your bonus items are sent to you immediately for instant download from your computer once you've placed your order.
You can get started with some of your organizing projects right away.
SPECIAL BONUS PACKET:
(available for new presale clients only)
Discounted presale Inspiration Program purchase ($20 value)
Personal and household files organizing packets ($5 value)
Paper management and organized office guide ($7 value)
Total presale savings valued at $32.00!
Be among the first to order your preselected program while this special presale offer remains in effect. You have absolutely nothing to lose.
The Let's Get It Together Inspiration Program is exactly what you need to get started.
If you are done with the clutter

Tired of all the stress associated with not having time for your family and friends

Ready to live a SIMPLER life

Desperately want to find a way to get more done

Need help getting a jumpstart on the mess

Just want to focus more time on what God has called you to do
LOCK IN YOUR SPECIAL PRESALE PRICE
$69.97 $49.97!
JUMPSTART YOUR LIFE!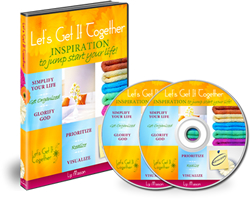 Reserve your copy now…