Wait, Isn't This an Organizing Blog?
We've all heard the three "green R's" before: Reduce, Reuse, Recycle…
but what do they have to do with getting organized? Well, the two go hand-in-hand so beautifully they should never be viewed as mutually exclusive.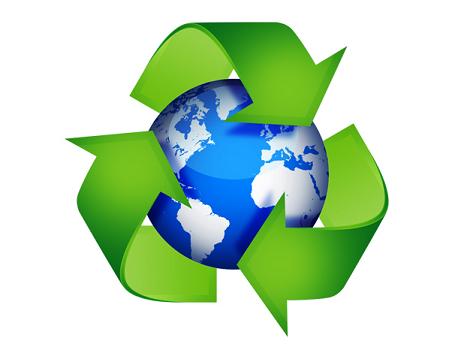 Reduce
Though we live in a world of consumerism and materialism, neither we nor God's green earth have limitless resources. Fortunately, it's becoming easier to do your part to reduce waste. You can opt out of junk mail and catalogs you don't read, reducing excess paper. When you pause before buying to consider whether you already have an item that will serve your purpose, you prevent duplicates from accumulating in your space. You can save energy and reduce carbon emissions by unplugging items not in use. And the good news is these steps take only a few moments of your time.
Reuse, Repurpose, or Upcycle
Just because an item is no longer being used for its original purpose doesn't mean it's trash. You might be able to put it to use elsewhere. A wicker basket that used to hold the dog's bed can find a second life as a shoe basket. An old bookshelf might be perfect for craft supplies in the art room or tools in the garage.
Or you might be able to take that old item and turn it into something new! There's a new concept floating around the internet these days called "upcycling," and it's all the rage right now on Pinterest. Whereas recycling takes used items, breaks them down, and makes something new from the same material.  Upcycling skips right over the "breaking down" step. In other words, an upcycled item is something old…with a face lift! A baby's crib can be turned into a child's desk. Unwanted t-shirts can be made into soft rugs that invite bare feet. Practically anything – from rain gutters and tires to light bulbs and kids' toys can be turned into planters of various sizes. I've even seen an old wooden ladder turned into a lovely, wall-mounted bookshelf.
Recycle
The last of the three "green R's" is the most familiar and often the easiest to carry out. County and city recycling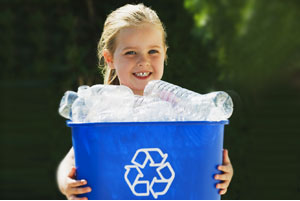 programs make it simple to set aside recyclable materials to be picked up on a designated date. But environmental consciousness extends outside the home, too. By making conscious choices about products we buy, we send a message to manufacturers. So take some time to read up on companies' stances on environmental preservation. Seek out companies who do their part by using environmentally-friendly and sustainably sourced materials. Let them know you appreciate their efforts by becoming a loyal customer.
Didn't You Say Something About Organizing? 

So how do the "green R's" fit in with an organized life? Let me count the ways…limiting the influx of items into a space makes it easier to maintain organization. Reducing clutter leads to less waste – it's easier to find the items you DO have, so there's no need to rebuy because something is missing. Reducing and reusing keeps clutter at bay by limiting the need for more stuff. Finally, and perhaps most importantly, maintaining an organized space that contains environmentally-friendly products allows you to lead a calmer, happier, and healthier life. Now isn't that what it's all about?
If you enjoyed this article please post a comment!
Thank you for stopping by… Liz Mason
Organizer serving Maryland, Washington D.C. and Virginia