Organizing Wisdom
My grandmother always used to say that: "A Stitch In Time Saves Nine".  This expression can be dated back to the late 1700s.  The 'stitch in time' means to sew up a small tear in a piece of fabric, thus saving the need for even more sewing at a later time when the tear has grown even larger. I love this expression and use it all the time.  In the life of a busy mom, this expression rings just as true today as it did 200 years ago.
Another expression that I carry with me is the tried and true Girl Guide motto "Be Prepared" that I learned so many years ago during my days as a Guide.  The two go hand in hand and are essential for a busy mom who longs for organization.  Here are a couple of my favorite ways for families to put them into practice:
1.   Develop simple routines that will save you time down the road.
How familiar is this scene to you?  It's time to head out the door for school, work or any other activity. You've finally got everyone washed and dressed, and that includes the second change of clothes for your child who spilled their glass of milk down the front of the freshly cleaned outfit they just put on!   Luckily, you have a couple minutes to spare this morning.  Everyone's at the door ready to walk out, you go to grab your keys and… Uh Oh!  Where are those keys anyway????  You know you put them in your purse when you got home from last night's meeting, you are SURE you did, but, wait a minute, where is your purse?  No problem, as soon as you find it, you'll have those keys and be out the door lickety split.  10 minutes later, you are no longer the happy mom you were, and your purse is still nowhere to be found.  Your couple minutes to spare have long since passed and you have exchanged the peace of being out the door on time for the stress of being late. This is definitely not very organized.
Organizing Solution:
A simple routine here can be installing a hook for either your keys or your purse by the door you most use to come in and out of the house.  Once that hook is installed, get in the habit of using it EVERY single time you come into the house.  Once you're in the habit of hanging your purse or keys up, you'll never have to search for them again.  You'll know exactly where to find them.  The stitch in time: hanging up your purse/keys, will save you nine: searching frantically, later.
 2.   Stay Organized, Think Ahead.
Here's another scene that is all too familiar for busy families:  You've just walked in the door from a busy day at work.  You've got exactly one hour before you need to get out the door to tonight's activity.  You decided what you are going to have for dinner on the way home from work.  You go to the kitchen, open the fridge only to discover that you are out of the main ingredient.  Now what?  You just had KD last night, and you are out of heat and serve options.  Guess it means another night of burgers on the way.  Thank the Lord for drive-throughs!
Organizing Solution:
An easy way to navigate your family's busy schedule is to keep track of it on a calendar, and to be prepared for busy nights ahead of time.  A crock pot can be a life saver on nights where you are in and out with only seconds to spare, but you've got to plan to use it ahead of time.
Prepackaging a few healthy snacks in baggies is another great way to be organized and prepared for busy times.  Being able to grab a small bag of grapes or veggie sticks not only saves your family's health, it saves you the cost of buying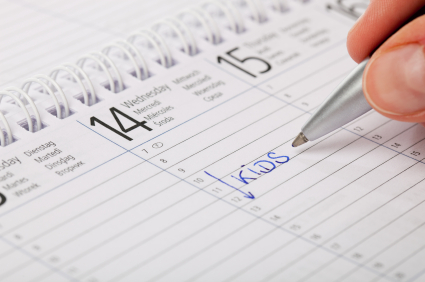 convenience foods from snack bars and vending machines.
There are lots of little ways that you can save yourself time, money and stress by being organized.  Start by thinking of one area that causes you a great deal of stress, like getting out the door on time, getting the laundry done, or getting forms back to school on time.  Once you've found your stressor, think of small ways that you can make that routine easier and go from there.  In no time you'll notice a change for the better. With a few simple changes you and your family can be stress free and organized.
Liz Mason creator of the
Let's Get It Together Empowerment System
helps Christian women get organized, simplify their lives and glorify God. Find helpful guidance and relevant
organizing articles
that will inspire a simpler lifestyle today.