An Easy Mail Management System You Can Start Today
Here's what you'll need:
Mail in and out box
3 file folders/desk trays
Calendar/To Do List
Shredder
Wastebasket
Every piece of paper you have will fit into one of four categories: Do, Read, File or Trash
1. Mark on your calendar which days are mail days. If you get a lot of mail this would be at least twice per week. TIP – Leave the mail in the mailbox until mail day. Unless you are expecting a huge inheritance check there is probably no overwhelming reason to pick up the mail every day.
2. When your mail first comes in you will act upon it. All incoming mail goes into the "In box" which is to be sorted the same day.
3. Ready to sort? This is where your three file folders come in. These are "action files" so label each folder for action! DO, READ, and FILE.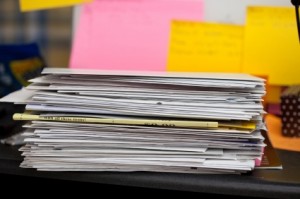 4. Open your mail and act upon it. If you receive an invite to a party, mark the date on your calendar and place it in the "do" folder. You'll want to respond as soon as possible. Once completed set it in the "out" box. Keep a book of stamps handy in your out box. A letter or an article you want to keep should be placed in the "read" folder. If it is something like a recipe sent by a friend, it goes in the "file" folder. Write a reminder on your calendar or to do list to send a thank you card.
5. Get rid of all trash immediately. If it is something you know you don't need trash it right away. If it has personal information cut that part off and shred it.
Putting these few simple steps in place can make managing your incoming mail easy and less time consuming. Remember don't let your mail pile up deal with it as soon as it comes in. For product information on desk trays from See Jane Lead click image.
Liz Mason founder of
Let's Get It Together
helps Christian women get organized, simplify their lives and glorify God. Find helpful guidance and relevant
organizing articles
that will inspire a simpler lifestyle today.